Earlier this year I told folks about a great experience I had doing business with Mad River Outfitters. Well, they are putting on a trip of a lifetime. A sort if fantasy camp for salty brethren of the long rod.
Join Mad River and Flip Pallot for a saltwater fly fishing school on Ambergris Caye in Belize on April 12-18, 2014.
Joining Flip will be the founder and owner of one of the largest fly fishing outfitters in the country, Brian Flechsig of Mad River Outfitters. Brian is the host of the Mad River Media series of instructional fly fishing videos, author, fly designer and a veteran instructor. Not to mention, of course, he's a world-class saltwater angler with over 30 years of experience. Brian and Flip began working together over 14 years ago when they filmed a mess of episodes of the Walker's Cay Chronicles together. A solid friendship was easily formed and the two men began teaching schools like this at various locations. They also conducted many trips together including their famous "Florida Sampler Trips". As Flip will tell you himself.......... "Brian is one of the best instructors in the fly fishing industry today and you will be glad to work with him."


The "MRO Flip School"-

The Mad River Outfitters/Flip Pallot Saltwater Fly Fishing School will be held in San Pedro- Ambergris Caye in Belize from Saturday, April 12th- Friday, April 18th. 2014.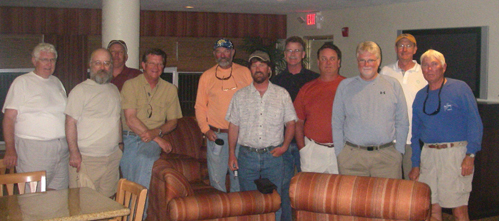 You will arrive on Saturday the 12th at the San Pedro Airport via Belize City and be escorted to the oceanfront Villa that Flip and Brian have rented for the school. You do need to arrange your airfare to Belize City and then over to San Pedro....but it's super easy. Belize City is served by American and Delta and we use Tropic Air for the quick jump over to the island. We will provide you exact details on how to do this. A valid U.S. Passport is required to enter Belize.

We will have a "meet and greet" dinner on the night of arrival and an overview of the week to come.

The next day will be spent in "classroom" with Brian and Flip with an emphasis on your fly casting skills.....which is the single most important component in your saltwater success. Classes will run from 10:00 a.m.- 4:00 p.m. so plenty of time before and after to relax, enjoy....or chase fish around the flats in front of the villa.

Day two will be spent with local guides chasing bonefish, tarpon and permit on the flats surrounding Ambergris Caye. After dinner will be a Q & A and discussion with Flip and Brian about your day.

Day three will be spent again in "classroom" with Brian and Flip and a variety of topics will be covered. You will have the evening off to relax, socialize, go to town, or....fish the flats right in front of the villa

Days 4 and 5 will be spent again with local guides on the flats surrounding the island.

Day 4 will feature "classroom" Q & A after dinner with Brian and Flip and day 5 will feature the "graduation ceremony".

You will depart the Ambergris Caye/San Pedro airport on Friday, April 18th. We will provide transportation (via golf cart) to the airport.

You need to bring basic tackle and flies. A detailed equipment listing will be provided upon sign-up. Basically you need to have an 8wt for bonefish and a 10wt for tarpon and permit, a few leaders and flies, and proper clothing and gear.

****Sign-up for this trip and Temple Fork Outfitters will give you a NEW Mangrove Fly Rod (designed by Flip) for FREE.......you pick....8wt- 12wt Click Here to view

Trip is limited to 12 anglers. A full detailed Info packet will be sent upon sign-up that will contain equipment listing, travel info and etc.

Included in this trip: Transportation from San Pedro airport to the villa, 6 nights lodging, all meals, Flip Pallot School, 3 days guided fishing, tons of fun

Not Included in this trip: Transportation to San Pedro, Belize (super easy and we'll tell you exactly how), tackle and flies, tipping of guides, staff and instructors


" Brian and I will transform you into better saltwater anglers.......period"- Flip Pallot